The Top Minimalist Wedding Look Inspirations
Minimalistic designs doesn't mean you have to be boring, most brides usually think a luxury wedding dress needs to be grand to make a statement. Just as long as you pick the right minimalist dress you will be able to create an impact.
A luxury wedding dress does not need to have crystals and look like something fit for a princess, sometimes toning it down will give your entire look a different feel. Never be afraid to experiment with various styles as you will never know which wedding look might work for you. Some brides prefer their wedding dresses to be in colour while others prefer spicing up their look with a unique hairstyle. However, if you think you want to try something simpler go ahead, nobody will stop you as you are the star of the day.
So, if you think you want to go for this option on your big day here are a few celebrity inspirations that you could look into:
Meghan Duchess Of Sussex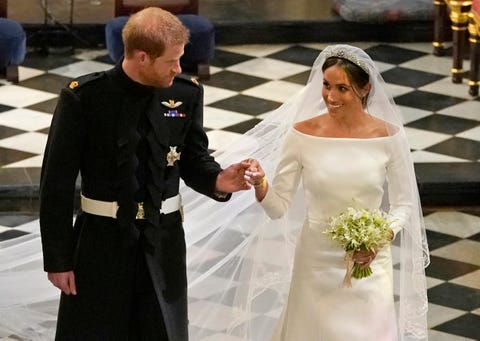 Meghan markle was the one who actually started the  minimalist bridal look trend last year when she was getting married to Prince Harry. Some people made comments that her look was to simple for a royal bride but most complimented her elegant look. Her dress was made out of silk with a bateau neckline, three quarter sleeves and a clean minimalist design. Besides her dress, even her hairdo was simple as it was just a simple messy bun paired with a beautiful tiara and a simple wedding veil. Lastly, her makeup was toned down without anything too dramatic along with simple accessories to match. She balanced her entire look so perfectly that even though it was simple, it still managed to gain so much attention.
Princess Eugine
Another royal bride who also preferred a simpler wedding look was Princess Eugine who was getting married to Jack Brooksbank. Her simple luxury wedding dress had a wide V-neck shape, folded shoulders and a low back that was draped into a full length train. Her dress was a fitted bodice that included a full pleated skirt. Next, her makeup was made to make her look natural and radiant. She had very little foundation applied, strong brows, a dust of bronze, lots of mascara and a rosy flush. To top off her look, her hair was done in a low chignon bun and a tiara with emerald stones.
Fala Chen
The actress from Hong Kong got married early this year to her French husband, Emmanuel. The bride was angelic with a simple dress that included sheer long sleeves and a big bow tied to the back. Her hair was done in a simple bun while she had very minimal makeup and simple earrings to match
Sometimes having a grand and dramatic wedding look doesn't have the only way for a bride to stand out. You could put on a luxury wedding dress and pair it with simple wedding accessories or even have a unique hairdo that will wow your guests. A minimalistic wedding look can save a bride loads of time and reduces so much of her stress. Also most importantly the bride will be able to herself on her big day.