Luxury Wedding Dress Trends For The Modern Bride To Be
The modern bride deserves to wear a dress that current, fresh and in demand. As a bride you should never settle for anything less and should always want to be wearing the best luxury wedding dress you can find. There are so many tips and inspirations that you could look into to help you find the dress you are looking for but there are also other minor details that you could put into consideration.
As an individual, we all have our own unique style and as brides you would wish to show who you are with your wedding look. However, at times it may be difficult because there are so many things that should be put into consideration before coming up with the final look. As brides it's normal to want the perfect luxury wedding dress, perfect hair piece to go with your hairstyle. That is why in hopes that your inspiration becomes broader, this article was put to introduce futuristic trends that will suit any modern bride depending on her personality.
Based on New York Bridal Fashion Week, there were many new trends that were seen on the runway. The trends basically consisted of traditional wedding looks that were updated to fit into the modern style.
Pearl embellishments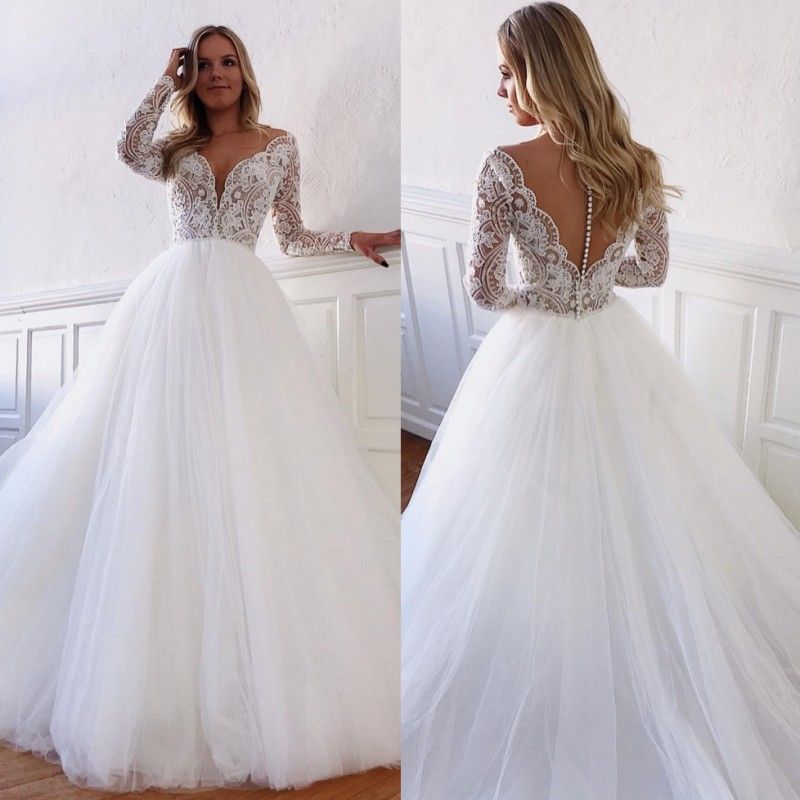 Pearls have always been everyone's favourite accessory no matter the occasion. They just have a way of making a statement when paired into any look. However, during Fashion Week it was clear that pearls were no longer used as just an accessory or a minor detail, designers made sure that these pearls went noticed. Pearls were used to create off shoulder dresses, shoes and even headpieces. It may not be easy for you to get your hands on these exact looks however you can use them as inspirations and find ways to incorporate pearls into your wedding look. Pearls have a way of making any look appear retro yet classy at the same time. Instead of just being something you wear on your neck, writs ir ears, they are now literally being sewn into dresses to create beautiful dresses that would make a bride look elegant and trendy. Moreover, pearls are something that are made for those brides who want a traditional look yet they could also be for the modern bride who knows how to mix it up a little.
Metallic details
Next trend, is for the edgy brides. Have you always wanted a wedding look that isn't too traditional yet still makes you stand out? Well consider adding metallic details to your luxury wedding dress. The metallic tones inspired by celestial colours incorporating glitter threads and metallic foils make the wedding dresses on Fashion Week look like they were designed on another planet. The designs were out of this world and iconic.
Floral Prints
This is something most brides will adore. Prints inspired by nature are always something that most girls love. Imagine having a luxury wedding dress with beautiful floral prints, it would be breathtaking. The dresses that were worn by the models consisted of hand painted flowers, watercolour inspired floral designs and floaty fabrics. These dresses would make any bride feel like a disney princess. Imagine pairing this dress with a disney inspired hair and you'll look stunning. These dresses will be the perfect look for even a fairytale themed wedding or even if you're just someone who adores floral patterns. Moreover, these dresses screamspring vibes and would also look pretty in colour. Yes coloured wedding dresses are also a huge trend now so you can find a way to incorporate both of these styles. This way you will be having a wedding dress that is totally ahead of time.
One Shoulder Necklines
Try browsing through bridal shops and ask them if they have any one shoulder dresses. These dresses have made it to Bridal Fashion Week and it's for the brides who dare to be confident. In addition to being trendy, they also could look good on any body type and could be made from any type of fabrics. These one shoulder dresser are a way of looking sexy without overdoing it. It gives any bride a look that is fierce and will grab the attention of anyone who attends the wedding. No matter if your dress is minimalistic or glam, an off shoulder would definitely change up the look. 
So no matter what type of individualistic style you have, always remember that there is a perfect luxury wedding dress out there for you. Moreover, before doing your dress shopping always look at various other trends and inspirations that will help set you in the right direction. Avoid last minute shopping and trust your instincts. These are the two most important points when it comes to selecting your luxury wedding dress.