Putting together a wedding look can be hard and nerve wrecking. Everything you decide from the small details such as tiaras, wedding veils, jewellery, etc to the bigger details such as themes and dresses; it's a never ending headache till the big day arrives.
 The most important part of the whole look is your dress and no bride for ever settle for anything less than perfect. In fact, most brides would prefer to have a luxury wedding dress compared to just buying any other white dress. Something most people always ask is, why spend so much on something that you might only wear once? 
Why Should You Get it?
In the beginning wedding dresses were worn to symbolise a family's status and wealth. However, these days wedding dresses might not be chosen to represent that reason but it's because I am sure you would want something memorable for your wedding. A wedding dress is something that will make you feel special as a bride. You can't deny the fact that you have dreamed about this day ever since you met Mr.Right or you might have even been dreaming about this day since you were a teenager. 
Besides getting a luxury wedding dress these days doesn't actually mean you would have to spend a lot. There a bridal boutiques that actually allow you to rent these dresses and the pricing depends on how long you want to keep it for. 
Choosing the Right Dress
Now that you understand the significance of owning a luxury wedding dress, you might begin to wonder about making the selection. Before you actually walk in a store and just picking out whatever seems pretty, there are a few important things you should do before you start finding your dress:
Research
Start tearing out pages from magazines, looking at your family's old wedding photographs and going through various wedding blogs or websites. This will give you a rough idea of what you should be looking for, current trends or even just give you some sort of inspiration. Remember never shop for a wedding dress blindly, it will only make it harder to find the perfect dress

Be prepared
Do not ever think you could buy a wedding dress as easy as buying a tshirt. It takes so much more effort that you would actually think. A few things that you might actually need are:
Heels- wedding dresses look better when you try them on with heels, only then will you actually know how the dress looks like exactly
Undergarments- wear a nude strapless bar and a nude underwear and bring spanx if possible. This will allow you to see how the dress would actually fit you on your wedding day
Inspirations- Bring along photo inspirations to help you decide such as the wedding's venue and pictures that you looked at while you were researching. Your wedding theme should also be part of your inspiration, never go looking for a dress if you do not know the theme yet. 
Crew- Make sure you bring along the right people to help you make your decision, two you should be just nice. Too many people might just give you a headache and also bare in mind to bring people that are not fussy to be out long
Budget
You should always buy a wedding dress that is lesser than the budget you set for it. This is so that you could use the extra cash to buy accessories such as a wedding veil, earrings, necklaces, etc.
Another tip, is to never try on dresses over your budget. This will make the process of finding the right dress impossible
Know your Body
Always pay attention to your body shape and size when you are looking for that luxury wedding dress. As much as you want to lose weight before the big day, you definitely do not want a dress that you can't fit into. Get a dress in your current size, that's always the safest option.
Also knowing you body shape is important as certain dresses are catered for specific body types. Find out areas of your body you want to accentuate and seek advice from the wedding dress consultant so that they can help you out. 
These basic steps should be able to help guide you in selecting your dream dress. Also, here's a tip, try shopping early for your wedding dress this way you can still have time to think and chose a dress without too much pressure. At the same time, avoid shopping way ahead of time as your dress may be out of style. 
Types of Wedding Dresses
Ball gown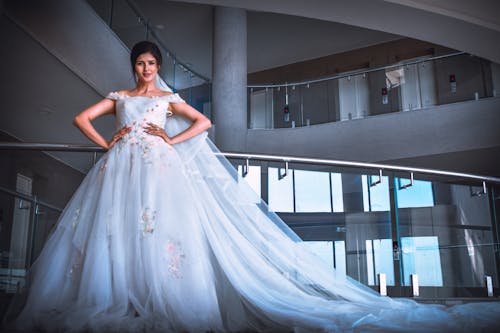 These dresses will make any girl feel like a disney princess. It's a classic wedding dress selection that hugs your waist while poofing up at the bottom, it will look extravagant on any bride and you will most certainly feel like royalty in it. 
Sheath
These types of dresses are typically lighter and you will be able to move around a little more in them. This is because it doesn't have much fabric on it. This dress is tighter on the top and falls straight to the ground from the hip onwards. 
A-line
An A-line dress combines the styles of a ball gown and sheath. It creates an A-shape on the top and flares out at the bottom but not as dramatic as a ball gown. It could be made to suit any wedding theme depending on the design details and fabrics that you choose.
Mermaid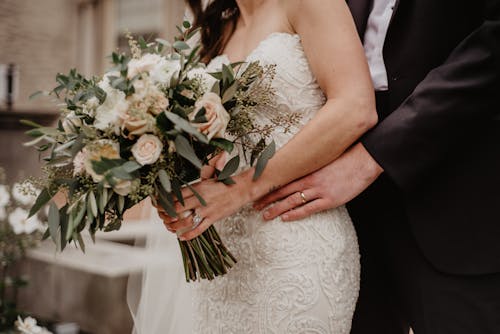 If you're thinking of looking like Beyonce on your wedding day then look no further. This wedding dresses will hug all your curves and you will be able to feel sexy and confident on your wedding day. It is tight up until your knees and flares out at the bottom.
Fit and Flare
If you don't want something as daring as the mermaid yet you still want to show off those curves, then consider this. It basically still hugs your curves but it flares out from above the knees giving you more room for your legs.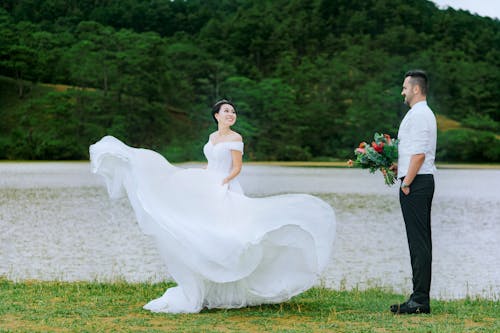 So in conclusion, wedding dresses are an essential piece to complete any wedding. Knowing how to choose a luxury wedding dress and the various types of dresses will hopefully help all you bride-to-be's in finding the right dress on your big day.