9 Iconic Wedding Looks Inspired by Movies
Planning your wedding look can be extremely fun. Think of all the possibilities that you could put together if you just sit down and start drafting your plan. Sometimes, you envision your big day before it's even anywhere near close. There are so many things you could experiment with for a wedding day, one thing that's easy and fun to put together are weddings with themes. 
Themes help you narrow down your wedding preparations including your luxury wedding dress, hairstyles and even what accessories you're going to wear. As fun as putting together a themed wedding is putting together a movie themed wedding. Imagine bringing your favourite movie to life at your wedding and you get to play the leading role. 
Here are a few movies that you might want to consider as wedding themes:
Beauty and The Beast
When we saw Emma Watson portraying Belle in the life action remake, let's face it a lot of us wished our weddings will looked like that. When she married the Prince and they had their dance, she wore a beautiful floral dress that was fitted on top and had a lovely ruched skirt. Her hair was set in a low bun, if you want to spice the hair a bit more, add a thin tiara or a few bridal worthy slips.
Breakfast at Tiffany's
This iconic movie show cased outfits that most girls dream of having. Audrey Hepburn had a unique wardrobe that matched the personality she was trying to portray in the movie. The long black Givenchy gown she wore in the opening scene would make the perfect luxury wedding dress. If you noticed, there has been a trend in coloured wedding dresses recently but if you still prefer to go traditional, I am pretty sure you could find a similar dress in white too. Complete your look with the right tiara, gloves and pearls and you now look like you're the starring role in the 1961 movie.
Funny Face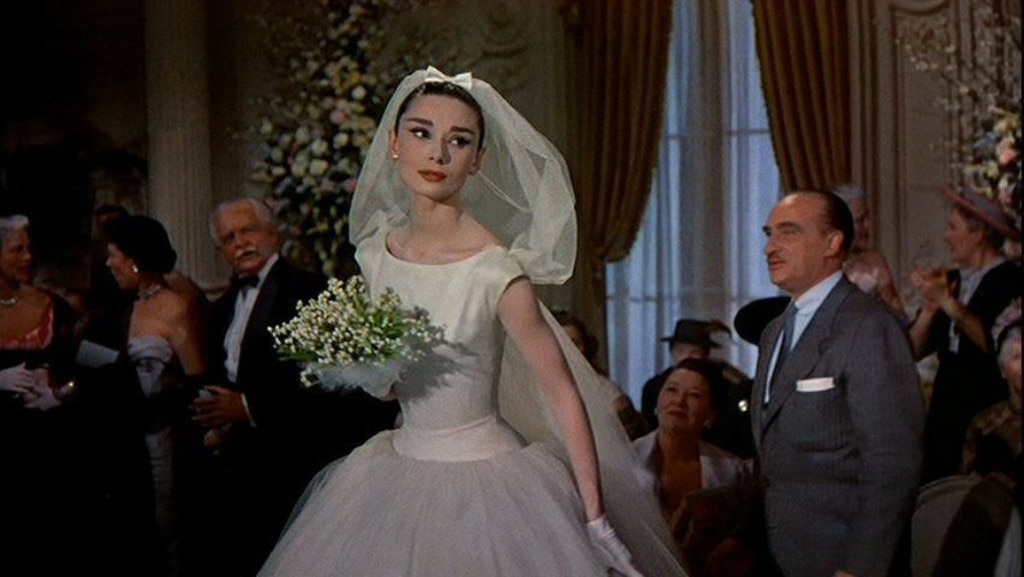 Another movie that starred the iconic Audrey Hepburn. In the movie during a fashion parade she was wearing a simple yet breathtakingly beautiful wedding dress. She also had a veil that made her look sweet and stylish at the same time. You can browse through various bridal shops to find a dress that looks similar.
Twilight 
For those of you who were huge fans of the movie and wish to look like Bella Swan then why not make that a wedding day theme inspiration. She wore a minimal stain and silky luxury wedding dress while her hair was in a messy updo and had long veil. If you're having an outdoor wedding even better as you can create dreamy wedding pictures inspired by the movie.
Sex and The City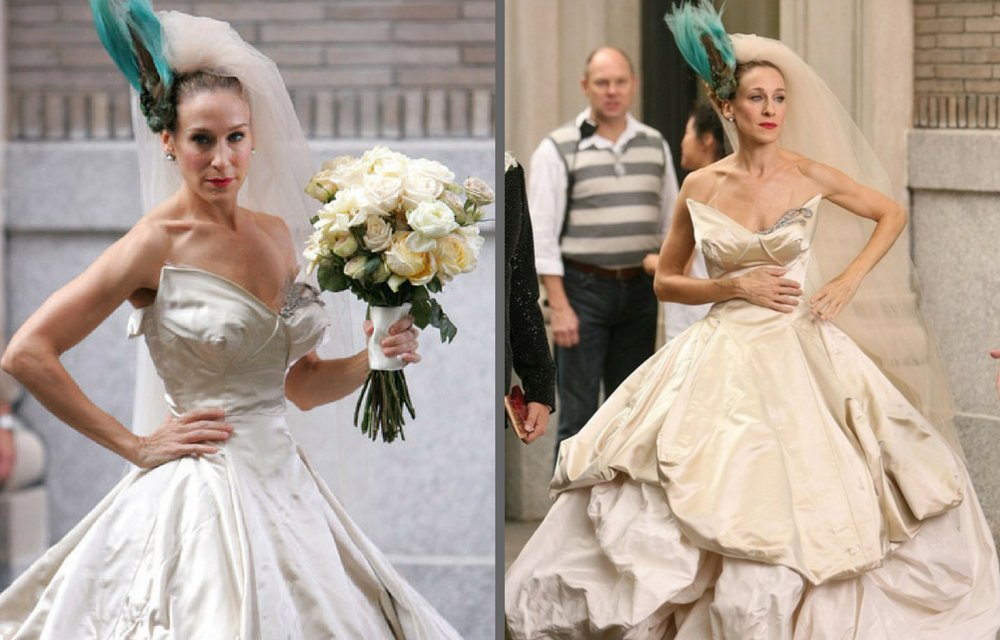 This movie has so many beautiful dress inspirations that you could choose from. The fashion shot in the movie showcased a number of wedding dresses that were worn by Sarah Jessica Parker. However, if you really want to create a big entrance try looking for a luxury wedding dress that looks like the one she wore for her wedding in the movie and top it off with a feathered headpiece and a shoulder length veil.
Star Wars: Episode II Attack of The Clones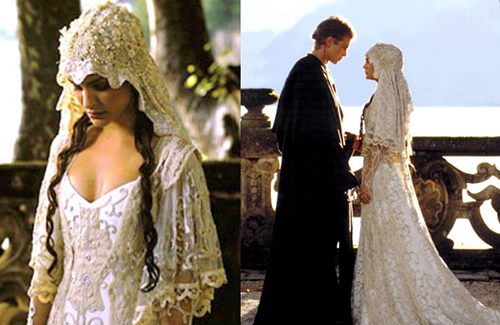 If you and your husband to be, are geeks for the franchise then why not try putting together this wedding look that would certainly impress your guests. The scrollwork-covered gown worn by Padmé Amidala (Natalie Portman) in the 2002 movie really looked amazing and the look could be remade easily with the right dress and lace wedding veil. 
The Princess Diaries 2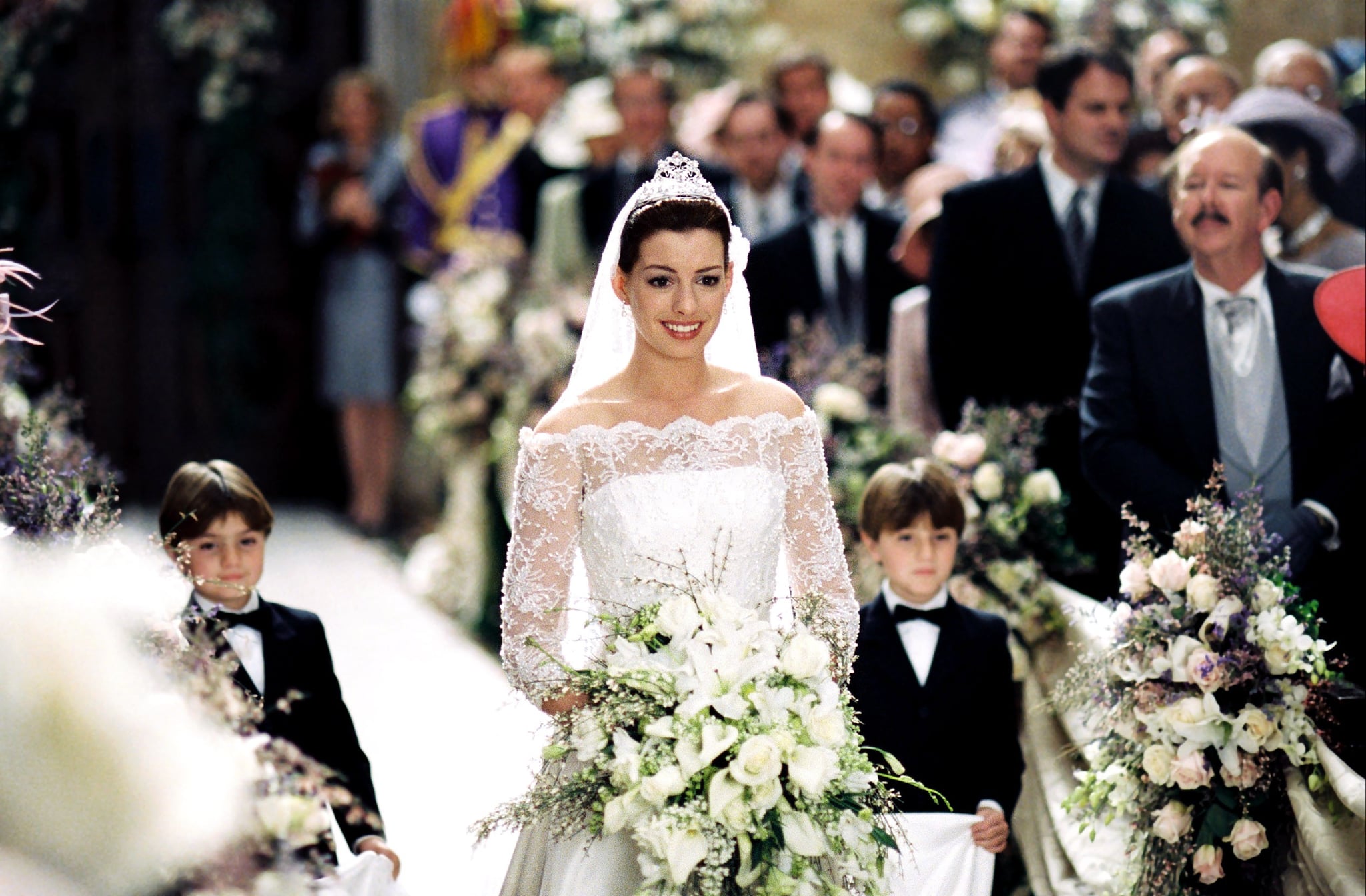 When Mia was supposed to get married, we all adored her look. She was wearing a long-sleeved, off shoulder, laced luxury wedding dress. The look was fit for a princess, you could choose to go with a long veil just like she did if it suits the occasion or pick any other veil that you think would match.
Mr and Mrs Smith
For action movie lovers, why not take inspiration from Angelina Jolie's wedding look in this movie. There is something about off-shoulder dresses, an updo and veil that make a bride look stunning. 
Mamma Mia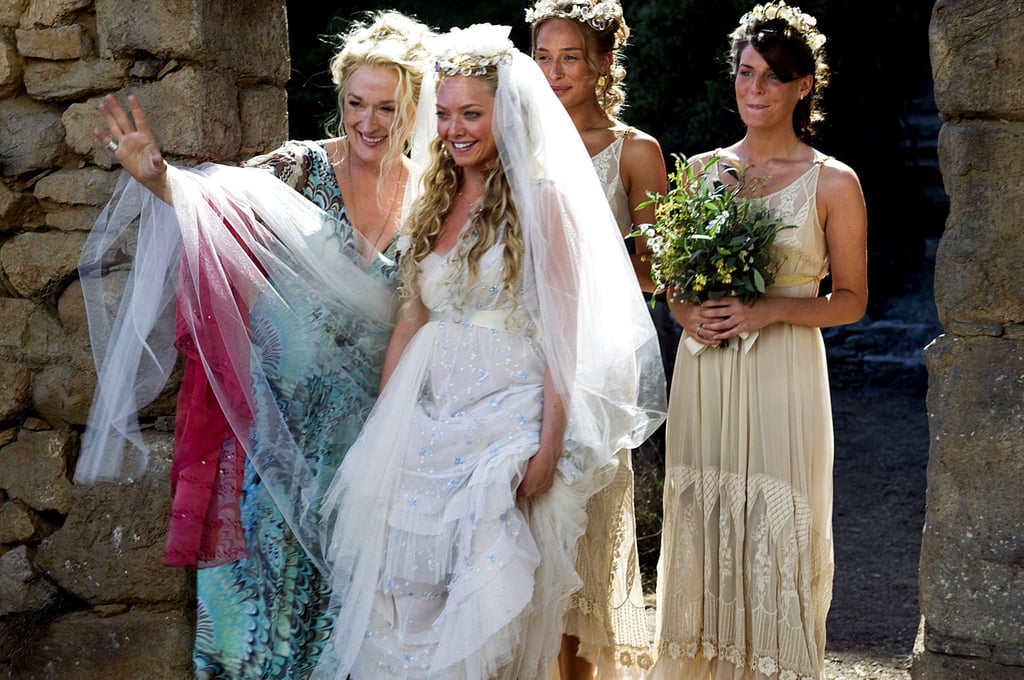 The musical had a number of memorable moments. If you're thinking of having a beach themed wedding or even an outdoor wedding, you can take inspiration from the wedding look Sophie had. You could even look up guides to see how you could modify the look to actually fit into your wedding.
These wedding looks are to serve as inspirations incase you want to have a themed wedding. However, even if your wedding is not actually being centered around these movie themes, you could still have them as guides incase you are short on wedding look inspirations. Furthermore, never rush when you're looking for a luxury wedding dress, always take your time and start early so that you will be able to find the perfect dress that would suit the occasion.